Dublin's Docklands is the place to be this autumn!
With Ireland reopening at last, there are reasons to visit every corner of the city and Dublin's Docklands area is no exception. Make time to wander off the beaten path to discover a neighbourhood where past, present and future effortlessly collide. With world-class visitor attractions, plenty of wide-open space and an excellent selection of bars and restaurants, it's got all the ingredients of a great day out.
We've compiled a list of all the businesses open in the area. This list will be updated on a daily basis. Make sure to get in touch if your business is not listed here, just send us your details by clicking here.
Download our map of Dublin's Docklands area - click here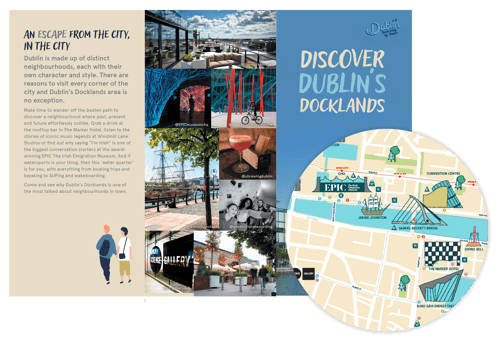 This great initiative was made possible thanks to the support of:

Attractions now open
EPIC The Irish Emigration Museum
Address The Chq Building, Custom House Quay
Phone 01 906 0861
Opening hours: Open 7 days 10am- Last Entry 5pm

epicchq.com


The Jeanie Johnston
Address Custom House Quay, Dublin 1.
Phone 01 473 0111
Opening hours: Open 7 days (guided tours at 11am, 12:15pm, 1:30pm, 2:45pm and 4pm)

jeaniejohnston.ie


The Irish Family History Centre
Address The chq Building, Custom House Quay, Dublin 1
Phone 01 905 9216
Opening hours: Open 7 days (12pm - 4pm)

irishfamilyhistorycentre.com


The Famine Memorial
Address St Stephen's Green Park, North Dock, Dublin City, Co. Dublin
Phone N/A
Opening hours: 24 Hours

www.discoverireland.ie/Arts-Culture-Heritage/famine-memorial

Diving Bell
Address Sir John Rogerson Quay, Dublin Docklands
Phone N/A
Opening hours: 24 Hours

dublinport.ie/about-dublin-port/a-city-port/

Windmill Lane Recording Studio
Address 20 Ringsend Road, Dublin 4, D04 CF66
Phone 01 668 5567
Opening hours: Daily 09:00-17:00

windmilllanerecording.com/tours/visitor-experience/
Food and Drink now open
Urban Brewing
Address Vault C, The chq Building, Custom House Quay
Phone 01 568 5989
Opening hours Mon-Thurs 5pm-late, Fridays - Lunchtime, Sat-Sun - 12:00-15:15
Special Offer: EPIC visitors get a 15% discount from their bill at Urban Brewing throughout all of August. Simply show your receipt from EPIC. Maximum 6 guests per party. Reservations can be made by clicking here.

urbanbrewing.ie

The Bakehouse CHQ
Address The chq Building, Custom House Quay
Phone 01 808 8999
Opening hours Mon-Fri 08:00-16:00, Sat-Sun 10:00-15:00

bakehousedublin.ie

3fe coffee
Address 32/34 Lower Grand Canal Street, Dublin 2
Phone 085 749 4435
Opening hours Open 7 days (9am - 4pm)

3fe.com


Cafe Sora

Address 77 Sir John Rogerson's Quay, Dublin 2
Phone 01 598 9890
Opening hours Open Monday - Friday (10am - 3pm)

BrewDog Dublin Outpost
Address Capital Dock, Dublin Docklands, Dublin, D02 K021
Phone 01 920 3350
Opening hours Mon - Fri (11am - 11:30pm) Sat (10am - 11;30pm) Sun (10am - 11pm)

Insomnia CHQ
Address The chq Building, Custom House Quay
Phone 01 672 0320
Opening hours Mon-Fri 08:30 - 15:30, Sat-Sun 09:45-16:30

Stir Restaurant
Address Sir John Rogerson's Quay, Grand Canal Dock, D02 YT21
Phone 01 643 9500
Opening hours Breakfast Monday to Friday 7.00am – 10.00am Saturday & Sunday 8.00am – 11.00am; Dinner Monday – Sunday 5.30pm – 9.30pm
claytonhotelcardifflane.com/stir-restaurant
Vertigo Bar
Address Sir John Rogerson's Quay, Grand Canal Dock, D02 YT21
Phone 01 643 9500
Opening hours Monday to Thursday: 10.00am – 11.30pm, Friday: 10.00am – 12.30am, Saturday: 11.00am – 12.30am
claytonhotelcardifflane.com/vertigo-bar/

Seven Wonders CHQ
Address The Chq Building, Custom House Quay
Phone 01 818 9973
Opening hours Monday to Friday: 08:00-15:00
Harbourmaster Bar & Restaurant
Address Customs House Dock, IFSC
Phone 01 670 1688
Opening hours Monday to Friday: 13:00-23:00

MV Cill Airne

Address Quay 16, North Wall Quay
Phone 01 817 8760
Opening hours Mon-Fri 12pm-late Sat-Sun 1pm-late

The Ferryman

Address 35 Sir John Rogerson's Quay, Dublin Docklands, Dublin, D02 E448
Phone 01 671 7053
Opening hours Mon-Thurs: 12pm-11.30pm, Fri-Sat: 12pm-12.30am, Sun: 12.30pm – 11pm

Osteria Lucio

Address The Malting Tower, Clanwilliam Terrace, Grand Canal Quay
Phone 01 6624198
Opening hours Daily 17:00-22:00

Il Valentino Bakery & Cafe

Address Gallery Quay, 5, Grand Canal Dock
Phone 01 633 1100
Opening hours Monday to Friday, 9am to 3pm and Saturday & Sunday 9am to 4pm

Charlotte Quay

Address Charlotte Quay Dock, Millennium Tower
Phone 01 908 9490
Opening hours Tuesday to Sunday 5pm to 9:45pm

Coffeeangel IFSC

Address The Exchange, George's Dock, Dublin, D01 P2V6
Phone 01 524 1030
Opening hours Mon-Fri 07:00-16:00

Drunken Fish Bar & Restaurant

Address The Excise Building, Mayor Street Lower, North Dock, Dublin 1
Phone 01 672 0025
Opening hours Mon-Sat 12:00-01:00

Il Fornaio IFSC

Address Mayor Street Lower, International Financial Services Centre, Dublin, D01 P3K7
Phone 01 672 1853
Opening hours Mon-Sun 12:00-22:00

TOSS'D Noodles & Salads

Address CHQ, Custom House Quay
Phone 01 829 1607
Opening hours Mon-Fri 08:00-18:00

Elephant & Castle

Address 81/82 North Wall Quay, Dublin 1, D01 XR83
Phone 01 245 7905
Opening hours Open Daily 12 Noon -10pm
themayson.ie/taste/elephantandcastle/

The Bottle Boy

Address 82 North Wall Quay, Dublin 1
Phone 01 245 7900
Opening hours Open Daily19:00-22:00
themayson.ie/taste/the-bottle-boy/

Lolly & Cooks Grand Canal Square

Address Unit 1, The Marker, Forbes St, Grand Canal Dock
Phone 01 679 8442
Opening hours Monday-Friday: 07:30-16:00
themayson.ie/taste/the-bottle-boy/

Boojum Grand Canal Dock

Address Unit H1 & H5, Hanover Quay, Grand Canal Dock
Phone 01 672 4494
Opening hours Open Daily 11:30-21:30

Freshii

Address The chq Building, Custom House Quay
Phone 01 605 4011
Opening hours Monday-Friday 8:00-15:30

Pita Pit

Address Unit 4, Block C, Point Campus, Dublin 1, D01 V2K7
Phone 01 9631997
Opening hours Monday-Friday 8:00-15:00
Shops now Open
EPIC Museum Gift Shop
Address The chq Building, Custom House Quay
Phone 01 906 0861
Opening hours 10:00 - 18:30

epicchq.com

Mitchell & Son Off License
Address The chq Building, Custom House Quay
Phone 01 612 5540
Opening hours 10:30 - 19:00

mitchellandson.com

Spar Custom House Square
Address Gandon House, Custom House Square, Dublin 1
Phone 018290450
Opening hours 6:30-21:00

spar.ie

Centra Point Campus
Address Mayor Street Upper, Point Village, Dublin 1
Phone 01 865 0030
Opening hours Daily 07:00-22:00

centra.ie/locate/leinster/dublin/1/point-campus

Fresh Grand Canal Square
Address Unit 4, Block 1, Grand Canal Square, Dublin 2
Phone 01 671 8004
Opening hours Daily 09:00 - 21:00

freshthegoodfoodmarket.ie

Fresh Mayor Street
Address 1 Mayor Street Lower, North Wall, Dublin 1
Phone 01 672 0977
Opening hours Daily 09:00 - 21:00

freshthegoodfoodmarket.ie
Hotels now Open
Clayton Hotel Cardiff Lane
Address Sir John Rogerson's Quay, Grand Canal Dock, D02 YT21
Phone 01 - 6439500
Opening hours 24 hours a day

claytonhotelcardifflane.com

Maldron Hotel Pearse Street

Address 98-107 Pearse St, Grand Canal Dock, Dublin, D02 RK37
Phone 01 670 3666
Opening hours 24 hours a day

maldronhotelpearsestreet.com

The Gibson Hotel

Address Point Square, North Dock, Dublin, D01 X2P2
Phone 01 681 5000
Opening hours 24 hours a day

thegibsonhotel.ie

Hilton Garden Inn Dublin

Address Custom House Quay, North Dock, Dublin 1, D01 V9X5
Phone 01 854 1500
Opening hours 24 hours a day

hilton.com/hilton-garden-inn

The Marker Hotel

Address Grand Canal Quay, Dublin Docklands, Dublin 2, D02 CK38
Phone 01 687 5100
Opening hours 24 hours a day

themarkerhoteldublin.com

The Mayson Hotel

Address 81/82 North Wall Quay, Dublin 1, D01 XR83
Phone 01 687 5100
Opening hours 24 hours a day

themayson.ie